Things to do…
With over 130 miles of coastline you are never far from the natural beauty of Islay. As the seasons unfold the scenery and the nature can change as often as the tide. The seascapes can be spectacular and there are many vantage points to take in the views. The abundance of wildlife can be particularly interesting. Red, Fallow and Roe Deer, Common and Grey Seals, Otters, Bottle-nosed Dolphin, Minke, Pilot and Killer Wales, plus a huge variety of bird-life including Golden Eagles, Geese and other rare breeds of birds can be seen at the appropriate times of the year.


Tourist Information Centre – Visit Scotland, Bowmore Telephone: 01496810254
---
Come rain…
If you would rather stay indoors, it would be a good time to take in one of the many distillery tours. The Island world famous whisky benefits from the winter storms, driving salt spray inland saturating the peat which filters down to the water in the burns. This helps create the special flavours of Islay malt whisky.
Distilleries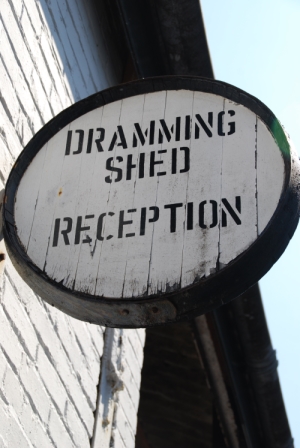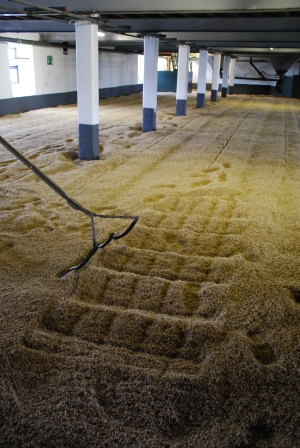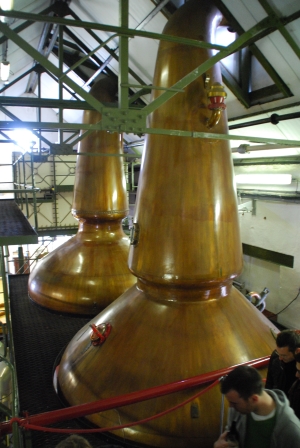 The Lodge is close to the three distilleries of Ardberg, Laphroaig and Bowmore that can be visited by bike, taxi, car or even by walking. Full details of visiting any of the distilleries can be provided on request.
Tours available daily at:
Local Restaurants and Pubs:
| | |
| --- | --- |
| The Islay Hotel, Charlotte St. Port Ellen | Telephone: 01496 300109 |
| The White Hart Hotel, 1 Charlotte St. Port Ellen | Telephone: 01496 300120 |
Arts and Crafts on Islay
Art Gallery, Outback Art
Sanaigmore, Gruinart Bridgend Telephone: 01496 850259
Liz Sykes Batiks
Islay House Square, Bridgend. Telephone: 01496 810147
Islay Ales
The Brewery, Islay House Square, Bridgend. Telephone: 01496 810014
Islay Quilters
Islay House Square, Bridgend
Islay Studios Gallery
Islay House Square. Telephone: 01496 810010
Islay Woollen Mill
Bridgend. Telephone: 01496 810563
Tormisdale Croft Crafts
Tormisdale [near Port Charlotte]. Telephone: 01496 860239
Bridgend Community Gardens. Telephone: 07767 688051

Places to Visit
The Museum of Islay Life
Open every day from April to October and features an important collection of objects and displays to show life from the Mesolithic age to the modern day.
Port Charlotte, Isle of Islay, PA48 7UA.  Telephone/fax: 01496  850358. www.islaymuseum.org
Finlaggan Visitor Information Centre
Finlaggan, is an island settlement in the beautiful secluded Loch Finlaggan in the north east corner of the Isle of Islay. It was the centre of the Lordship of the Isles. The site is sign-posted off the main road between Ballygrant en Keills. The trust put in timber walkways and paths at the site and provided good information panels.
The visitor information centre is open Mondays to Saturdays 10.30 to 4.30 and on Sunday afternoons from 1.30 to 4.30 until October. The site itself is open all year.
Islay Natural History Trust, Port Charlotte
Displays illustrate the island's wildlife riches, from its underlying geology to its birds, butterflies, wild flowers and mammals. Islay is perhaps best known for its wonderful all-year-round bird watching. Its aims are to encourage the study, documentation and enjoyment of the natural history of Islay.
The centre is accessible to the disabled and elderly. Opening hours are: June, July, August – Monday to Saturday, 10.00 am to 4.00 pm, closed on Sunday. April, May, September, October – Monday to Friday, 10 am to 4.00 pm, closed Saturday and Sunday.
The Islay Natural History Trust, Port Charlotte, PA48 7TX.
Telephone: +31(0)1496-850288. Website www.islaynaturalhistory.org
Bowmore Round Church
Built in 1767, folklore says that the round shape is made so there are no corners for the Devil to hide in. The church is open to visitors all year.
The Manse, Bowmore,
Islay
PA43 7LH
Telephone: 01496 810271. Email: rob@theroundchurch.org.uk
The Church is one of 17 surviving Parliamentary Churches still in use. It was built in 1828 and is now a grade B listed building located above the village of Ballygrant on the Hebridea. The church can be reached from the main Port Askaig – Bowmore Road about 4 miles from the ferry terminal.
Located right in the heart of Bowmore, this is an award winning community owned and run business. It features a 25 metre swimming pool, fitness studio, sauna, tan-cab, launderette, multi purpose activity room and sports kiosk.
Mactaggart Leisure Centre, School Street, Bowmore.
Telephone: 01496-810767 – email: mlc.scott@btconnect.com
Islay Alexander Technique Centre
Originally the Alexander Technique [AT] was used by actors and musicians improving performance and reducing injury, voice loss and anxiety. Nowadays professional performers learn AT as part of their basic training, and many enthusiastic amateurs use it as an entry point for developing good technique.
Primarily AT is an education in applying ourselves to the rigours of daily living. The centre tend to developing habit patterns which affect our coordination, well being, physical and psychological health.  Most of the time we're unaware of how we're influencing ourselves and often rely on 'damage limitation' after stress or injury. The AT is a way of developing self awareness, learning to integrate our thoughts, attitudes and actions. It can help address the source of our difficulties and prevent problems from building up.
Islay is home to two teachers of the AT, and Lynn McLean has set up the Islay Alexander Technique Centre to encourage both locals and visitors to participate in something people on the mainland sometimes travel many miles to discover.
Telephone: +44 (0) 1496 860232, Mobile: 07919 385051
email: info@islayalexandertechnique.com
Further details about AT: www.stats.org.uk

---
Come shine…
Local parks and recreation
Within Port Ellen village the playing fields have a 9 hole pitch and putt green, tennis and bowling green. For serious golf, see the Machrie Links Golf course details below.
Fishing on Islay
Trout and Salmon fishing is possible on several rivers and lochs depending on season and day of the week. Fishing is however restricted in most parts of Islay and permits and/or approval should be obtained at the several estate offices on Islay. The newsagent in Port Ellen sells permits for Loch Kinnabus and Glen Astil.
Telephone: 01496 302 264.
Further locations and contact details visit the website: www.islayinfo.com/islay_fishing.html
Cycling on Islay
Islay is an excellent island to discover by bike. The roads are mainly single track, the nature is overwhelming and wildlife is everywhere present. The villages are not far apart and in fact the longest distance between two villages on Islay is the ten miles between Bowmore and Port Ellen. Bike hires are available in several villages and also at Port Charlotte, Port Ellen, Port Askaig and at the Bowmore Post Office
Further information can be found on the website:
www.islayinfo.com/cycling_on_islay_cycle_tour.html
Islay Cycles 07760 196592
Walking on Islay
With so much stunning scenery and wildlife in Islay, walking is one of the best activities to fully discover Islay's true beauty. There are several very attractive walks on Islay and also on Jura (see the Jura section below). Full details can be found on the website:
Website: www.islayinfo.com/walks.html
Golf on Islay
Machrie Golf Links, (6,292 yds, Par 71)
With a history that dates back to 1891 the 'Open Championship' of 1901 was held here. The course has been described as a bewitching and exalting experience.
Machrie Golf Course, Port Ellen: Telephone: +44 (0)1496 302310
Islay Golf Club Website: www.islaygolfclub.co.uk
The Centre is able to tailor rides to the riders' ability, from the youngest of riders to the most experienced. Prices are kind to the pocket and all riders receive individual attention from the staff. The length of rides are from one to two hours responding to riders' expertise and horses' fitness.
Ballivicar Farm, By Port Ellen, Isle of Islay
Telephone: +44 (0)1496 302251 Email: harriet@ballivicar.co.uk
Nature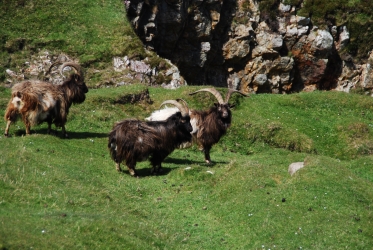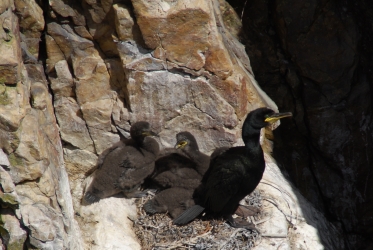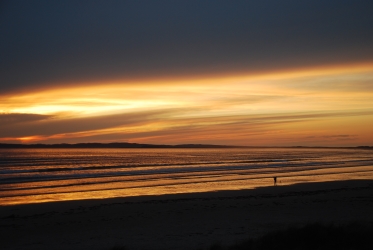 RSPB Loch Gruinart Nature Reserve
Loch Gruinart is perhaps one of the most beautiful parts of Islay with stunning views and unique wildlife. Rare birds and thousands of geese overwinter here.
RSPB Loch Gruinart Nature Reserve is in the north west of Islay. It covers an area of over 1600ha and includes a working farm with approximately 250ha of mud flats and salt marsh and 980ha of heather moorland.
Contact Details:
RSPB Loch Gruinart Reserve, Bushmills Cottage, Gruinart, Bridgend PA44 7PR. Telephone: 01496 850505
Birdwatching on Islay
Islay attracts birdwatchers from around the world due to its wide variety of species, including many rare birds. Islay's wonderful scenery and habitats, including wild open moorland and hills, unspoiled beaches and cliffs, mixed woodland and mudflats, offer amazing birding. Over 100 species being present on the island all year round.
Further details:
www.islayinfo.com/islay_birdwatching.html
and Ian Brookes Birding Blog: www.islaybirds.blogspot.co.uk

Places of interest
The American Monument High on the Oa at Upper Killeyan and overlooking the sea in which 266 Americans died when the HMS Tuscania was torpedoed on February 5 1918. The monument is shaped like a lighthouse and was built by the Government of The United States on the 400ft cliffs, seven miles from where the ship went down.
The area around the monument is an RSPB nature reserve and there is plenty of wildlife to see, including rare birds such as the Chough, Golden Eagles, Fulmers, Kittiwakes and Razorbills. The coastal heath has an excellent signposted walk, which has dramatic views of the cost and from which Otters can often be seen.
Islay Sea Safari from Port Askaig
The most exciting way to see Islay, Jura and beyond. Islay Sea Safari is available for corporate or private charter for wildlife trips, distillery visits, island hopping and custom trips anywhere around the isles of Islay, Jura, Gigha, Northern Ireland and as far north as Tiree.
Telephone: +44 (0)1496 840 510  Email: sailings@islayseasafari.co.uk
See www.jurainfo.com for more info.

The Isle of Jura
One of Scotland's last wildernesses. Only 180 people, 5,000 deer and one whisky distillery, and only accessible by the ferry from Port Askaig on Islay.
The ferry service operates every 15 minutes, until 5pm.
Hikes on Jura
There are a number of excellent walks on Jura including the incredible 5-8 hour walk to climb one (or if you're very keen – all) of the Paps of Jura. Providing breathtaking views of Jura, Islay and even over to Northern Ireland – this walk requires walking experience, a map and a very clear day! Details can be found here.

---